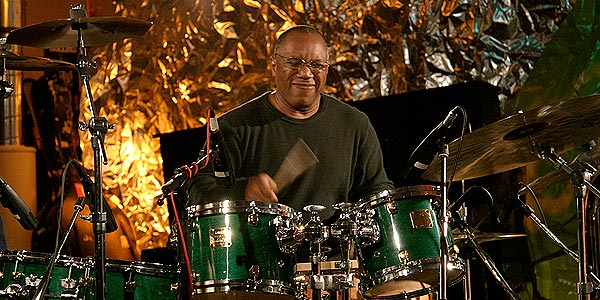 This Web Page is dedicated to the accomplishments of one of the great drummers of our time, Billy Cobham. For over four decades Billy Cobham has been in the forefront of the drum world as a player, composer, and educator of drummers and other musicians in all corners of the world. Just checking his discography will give you an appreciation of how many different musicians, playing every style of music you can think of that Billy has collaborated with. He has been one of the most in-demand session drummers on the planet, and his clinics for his many endorsers are must-see events ! To experience him in live concert is to witness a master at work.
A documentary starring Billy, entitled Sonic Mirror, was released in April 2007, and has been shown at a number of film festivals in Europe, South America, and in California. It has been released on DVD in Europe and we hope will come to America one day. It's a magnificent movie !! Billy just completed 10 shows at the Blue Note in NYC with Ron Carter and Donald Harrison. He has a retreat called The Art of the Rythym section in Arizona this August for anyone who wants to study with him ! There is also a residency @ Ronnie Scott's in London once again with the Billy Cobham Band. These links can be found in his calendar. It can be found on his main site. www.billycobham.com
Billy's latest release is of recordings he made in 2013 with the Frankfurt Radio Big Band of some of his classic recordings re-worked. It's called Broad Horizon and is on his CMMC label . Gonzo records will be releasing a radio broadcast from the past called Live @ Hofstra University soon. Bill also performs on 3 cuts from a release by Nik Turner of Hawkwind called Space Fusion Odyssey on Purple Pyramid records !
Any feedback, questions, additions or corrections to anything on the site would be appreciated! Contact drumminfool@drumminfool.com
Thank you for visiting !!!