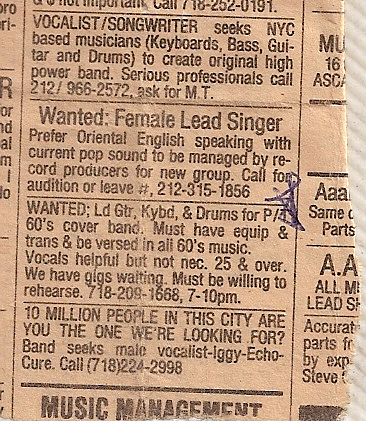 My experiences with Route 66 began when I answered the ad for a 60's cover band from the Village Voice in February of 1986.
This ad was placed by bassist John Muro who was putting together a 60's cover group to be called Route 66.
After a few auditions held by John at Downstairs Sound in Brooklyn , he selected me to play drums, and Rich Rollo and John Matlock from the band The Treble Chords to play guitar and keys, respectively.
We gigged mostly in Brooklyn, Queens and Manhattan. Click here for some audio rehearsals from the summer of 1986 recorded in John Muro's basement.
John also hooked us up with Ronnie & The Excellents as their back-up band playing doo-wop music.
Keyboardist John Matlock eventually left the band because of health reasons.
Richie and I decided to stop playing with The Excellents. Shortly after that, John Muro had to undergo emergency heart bypass surgery which necessitated that he stop gigging. So he recommended a bassist to us named Danny Hall, and gave us his blessing to use the name Route 66. Coincidently, John Matlock had recommended one of his students to us on keyboards named Joe Trezza, and that became the foundation for Route 66 II. Richie and I decided that having a female vocalist would give us the ability to cover a broader range of music so we placed an ad for a female vocalist. We hired an incredible vocalist named Donna Orlando , and the second incarnation of Route 66 was born. We gigged very steadily until September of 1988 when Donna decided to marry director Gregg Ward and move with him to Scotland . So we placed another ad in the Voice and held auditions to replace her.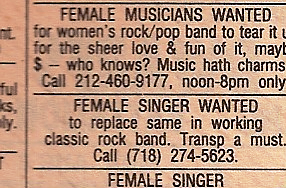 This is the ad we placed and we were fortunate to find the very talented and beautiful Jamie Tselle to become our new lead singer. Here's a photo of all of us in our formal wear for one of the weddings we played . Love the bowties ! Unfortunately , I don't have any video of Jamie performing with me, but we do have some rehearsal audio clips. Here is a small photo gallery with her.
The good news is that we were being booked steadily, and our agents at Entertainment Galore wanted to start adding weeknight gigs and week-long stints at some of the Atlantic City casinos. Normally this would have been great news except that I already had a full-time career which I had no intention of giving up. But this was great news to the other members of the band, one of whom had just lost his regular job, and the others who intended to either quit or work around their day jobs. So the rest of the band decided to move forward without me, and set about finding another drummer .......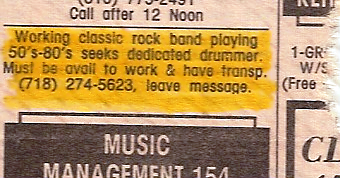 This is the ad they placed and they found another drummer . Here is a picture of the next version - Route 66 IV. The drum chair became a revolving position occupied by several different drummers. Here's a video from the Westchester County Fair with Stu on drums. Jamie eventually left and was replaced by a girl named Elizabeth Ryan for Route 66 V and keyboardist John Matlock returned , and they hired new drummer John Twasko . The group then decided to change musical direction to all classic rock so they hired a new female singer named Pam Dixon , brought back keyboardist Joe Trezza , and changed the name of the group to Freefall. Here's their demo. They eventually went their separate ways and pursued other projects. Subsequently, John Matlock passed away due to diabetes. R I P John !
Rich then switched to bass because there was plenty of work around for bass players who sang. He even had a band again with Joe Trezza called The Blues Fellas. These days find him busy with bands such as Richie & the Rockets, Rock Island, Cream/Mountain tribute band Crossroader, and Beatles tribute band Hey Bulldog among many projects . John Muro currently is back gigging with The Cabaret Trio.
The Route 66 period was a fun time in my life. I met the love of my life at one of our gigs in Long Island, and I'm still happily married to her 20 years later.
And now it looks like the saga will continue ! As of Feb. 2009 Rich Rollo, Danny Hall, and I have reunited to form a new band with some very good people. We have been having rehearsals and have decided to call ourselves 5 Hits & a Miss . It will be cover music playing classic rock, soul and country. See the link to the page.
I am very sad to report that Danny passed away in June of 2010 after a battle with cancer. He was always such a positive person, and we all miss him terribly. R I P my friend !
The band carried on with bassist Cosmo Lo Crichio who Rich has known for many years, and who played with him in Hey Bulldog . That is until our lead singer Judy Pierri developed severe tinnitus and could not do gigs without being in pain. Cosmo was also very busy with another band so we all decided to call it a day.....
Around the end of 2012 I decided to try and put a new band together so I enlisted Rich once again as my bassist and lead singer , plus some old friends from some previous bands . We called ourselves Grey Matter. We spent many months auditioning people to find the perfect male lead singer to complement Richie's voice and become the classic rock to current rock cover band I envisioned. Each time we would find someone, they would join and rehearse with us for a few months, and then decide to leave ; one got a new job , another wanted to go back to his duet gig and do community theatre ...... Then after we found someone else to sing, our keyboardist had health problems which forced him to drop out from the band. We replaced him and did a gig, but it was not up to my expectations. So as of now , we are trying to decide what to do, if anything....... Stay tuned ! LOL
!